There's a little mile-high park by our house up on top of the hill in Laguna Beach called Alta Laguna Park. Besides the 360-degree views of the ocean, hills and mountains, there's a small playground, some tennis courts,  a baseball field and trail heads to the surrounding open space.  A visionary local landscape architect named Ann Christoph designed the seven-acre park using almost all California native plants.
For the last decade or more,  a friendly guy named Andy has tended the park for the city, and a couple years ago I heard he had started a butterfly garden tucked away behind the baseball field. Several weeks ago, I wandered over and saw the official sign: Monarch Way Station. When I got home, I Googled the Web site on the sign–Monarch Watch.Org— to learn more about this project.
 In a nutshell, the numbers of Monarchs are down due to loss of habitat.
These Way Stations provide mini-habitats in developed areas to provide more food for these and other butterflies. The "Bring Back the Monarchs" campaign is trying to restore 20 milkweed species, as well as encourage plantings of other native, nectar-producing flowers. Click HERE to see their list for both states in the East and West, as well information on how to order seed kits to grow these plants.
When I first learned about how these plants attract Monarchs to your garden, I was doubtful. But a couple years ago, I stuck a couple milkweed plants in my front garden that I bought from my favorite California Native Plant nursery, called Tree of Life. And sure enough, that summer I had caterpillars crawling all over the milkweed plants, and then the glistening green chrysalis, and then Monarchs emerging and fluttering away! Click HERE to see and read about what I saw.
 What's so amazing is that almost anyone (Yes, that includes YOU!) can grow these plants, and within weeks or months, have your own Monarch resort! Most nurseries, at least here in Southern California, carry native plants now. And milkweed is very easy to grow by seed. You can even register your Way Station and get a nifty sign (like the one on Andy's garden.), and become one of about 5,000 of these official butterfly retreats.
If you live West of the Rockies, the Monarch Watch folks recommend these plants to attract Monarchs:  Butterfly Weed (Asclepias tuberosa), Narrowleaf Milkweed (Asclepias fascicularis), Showy Milkweed (Asclepias speciosa),  Swamp Milkweed (Asclepias incarnata), as well as these general nectar plants: Blue Sage (Salvia farinacea), Chia (Salvia columbariae), Scarlet Sage (Salvia coccinea), Tithonia Torch, Mexican Sunflower (Tithonia), Zinnia and Dahlia Mix (Zinnia elegans).
But any nectar-offering plant can do the trick. Our friend Andy in the park has a Passion flower vine growing up an old tree stump. So mix and match. Monarchs aren't that picky.
If you ever happen to visit Alta Laguna Park, look for these whale sculptures near the baseball field, and you will spot Andy's Monarch Way Station and butterfly garden right behind them. And make sure and say "Hi" to Andy if you see him. People like him are quietly making a difference about our future–one filled with butterflies!
 Here's the scoop again on how to order your own seed packet:
Shop online at Shop.MonarchWatch.org (direct product link) or by calling (800) 780-9986.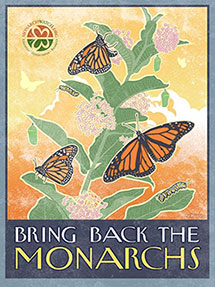 Here's a book about Monarchs if you want to learn more:
The Amazing Monarch: The Secret Wintering Grounds of an Endangered Butterfly