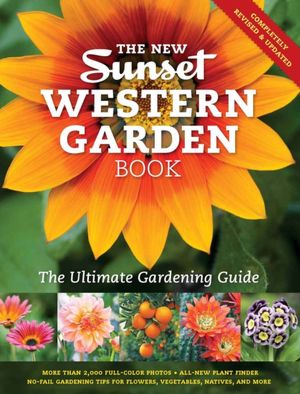 I bought my firstSunset Western Garden Book
at a garage sale shortly after buying our first home, a tiny, hundred-year-old house in the Old Towne section of Tustin, California. As savvy first-time home buyers in 1988, my husband and I based our decision on one feature: the giant avocado tree in the backyard. We loved it.
Having grown up in states with snow and deciduous trees, we needed this regional garden guide to figure out what exactly we had growing in our new yard. I didn't have any friends who gardened, and we lived far away from our families. With the help of the book, I learned what that sticky, white stuff was on our tangerine tree, and how to prune the roses in the front yard, and why our persimmon tree looked like it was dying.
As a young mom feeling home bound and lonely with two small children, gardening was the perfect past-time. But California, with its perfect climate and subtle seasons often confounded with drought years, blasting winds and monsoon rains,was a tricky place to understand. It was my tattered, water-stained garden to me that had the answer to almost every plant-related mystery or challenge. I didn't realize it at the time, but Sunset's garden book also shaped my passion for the western spirit it espouses—a love of nature, an appreciation of the native environment, an eye for organic beauty, and an "I can do it myself" attitude.
So what has inspired this ode to Sunset and the rambling nostalgia? I wanted to give some background so you could appreciate why I felt so excited and honored when the publishers asked me to review their latest edition of The New Sunset Western Garden Book
.And why it might involve shameless gushing.
Like thousands of other clueless gardeners, this book helped me over the years raise my plants andtrees, and in a way, my family. I haven't read it front to back, and never will, but here's my impression of this latest edition:
The cover is modern and bold, but not too slick. The book holds it own on the coffee table.
 Even though I am Googling manyof my gardening questions now, it's great to kick back on the couch and flip through a real book—especially when I'm too weary to sit at the computer.
It's not that different fromthe older editions, and that's a good thing! You can still figure out you rclimate zone, or look up any plant or tree alphabetically for more informationthan you need, and it has all types of handy navigational graphics. (Ihave to say, however, that I miss those black line drawings of plant illustrations. Hang on to your old editions.)
This edition has more images and content on current garden trends. It has gorgeous examples and advice o nwater-wise and wildlife-friendly gardens, as well as natives, ornamentals, herbs, edibles and succulents.
The book is packed with little blurbs on all types of how-to and DYI advice and tips—with titles like "How toGrow Artichokes" and "Salvias for Containers" and "Spring's Unsung Annuals." It also identifies 1,000 new plants.
I especially love the additional space given to photos of garden designs and ideas. In my opinion ,that is one thing that Sunset does best:  It shows us that thesebeautiful outdoor spaces are accessible to everyone—not just those with privatelandscapers and loads of cash.
It's not cheap, with a list price of $34.95. (You can buy it at Amazon
for less.) But you get far more than your money's worth, including an online companion Plant Finder. There are even camera icons throughout the book where you can link to helpful, corresponding videos on Sunset's Web site.
GIVE-A-WAY CONTEST
Here's the good news for you. Sunset is letting me give away five copies. I've never done a contest or give-away before, but how about you share one of your favorite garden or nature quotes, and I will pick my top five favorites to award the book.  (You have to live in the U.S. and be over 18 to participate.) When you share your quote in the comment section, please include your first name and email address so I can let you know if you win. I will let the winners know by the end of March.)
UPDATE: March 31, 2012: Winners Have Been Chosen. Contest is now over.